Facebook

is the most used social networking website, because everyone uses to connect with their family and friends.
Sometimes People Might Irritate You By Pinging You On Facebook Chat Or Spammers May Annoy You Through Facebook Chat For That You Can Go Offline Or Invisible Mode In Facebook Chat For Certain Friends Alone.
Steps:-
1.) Open Facebook Chat Window.
2.) Click on Friend List –> Create New List –> Invisible –> Press Enter
3.) Now Invisble Group Ready.
4.)Drag and Drop Friends from Chat or Edit List .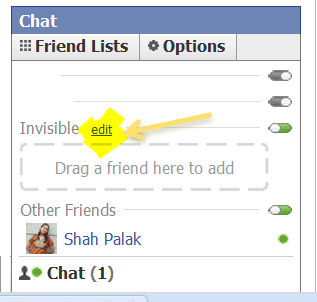 5.)To turn off Facebook Chat and appear offline, click the icon to the right of the notifications icon in the bottom right of your screen and click "Go Offline" in the popup box.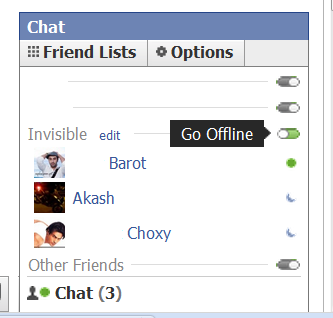 6.)You can also manage your Group sequence (Re-Order) — Click on Option — > Re-Order
Done …. 🙂