PDF is very useful file format to be distributed on internet. Mostly we got PDF files on internet that locked with password, can not be printed, copied, etc
A Web site exists to break all the restrictions—from print limits to passwords—imposed on PDFs: FreeMyPDF.com.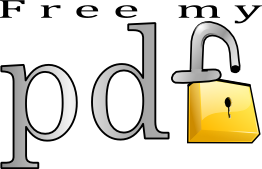 First, click the Choose File button and select the PDF from which you want to remove restrictions. Then, click the Do It button. You are then prompted to save the new, free-of-restrictions PDF to your computer. Choose a location for your new file, then open it and use it however you like!
There are a few restrictions for FreeMyPDF.com. First, you must be able to view the PDF without entering a password for it to help you.